Detox 360° Program in Northeast Colorado Springs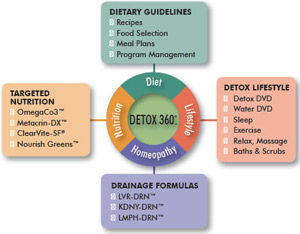 The Detox 360° program is a scientifically designed and powerful whole foods detox program over 4 weeks. The Detox 360° program includes:
3 nutritional consultations with Dr. Caplan.
Complete program supplements (2 ClearVite Protein Powders, 2 Metacrin, 2 omega CO-3, 1 Nourish Greens, 3 homeopathic tinctures)
An educational program binder and 2 DVDs
Getting Started With Our Detox 360° Program
The cost of the Detox 360° Program is $750. To get started in the program, please email us using the form below. We will contact you to schedule your initial nutritional consultation and arrange for pick up or delivery of your program supplements.
If you have additional questions about the Detox 360° program or would like to register, please contact Caplan Chiropractic today.
For a more advanced program, check out the Total Vitality Program
*Image: Used with the express permission of Apex Energetics, Inc. without any sponsorship, approval, or affiliation with Michelle Caplan, DC.
Detox 360° Northeast Colorado Springs | (719) 357-6064